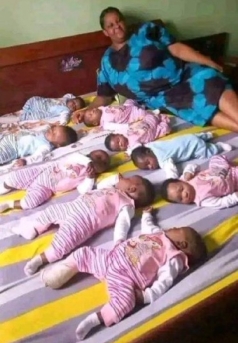 News
Woman gives birth to nine children after 25 years of marriage
CITIZENS COMPASS —A Nigerian mother, Obianuju Anthonia Ibeanu, has given birth to nine  children after 25 years of marriage. 
The birth was the first in her life. 
According to social media accounts, the woman had been married for over 20 years but had never had a child during that time.
Fortunately for her,  she gave birth to the children safely. 
Pictures of Mrs. Ibeanu sitting at the edge of a bed with her nine children lying down, have gone viral on social media.
The pictures have been attracting comments from social media users..