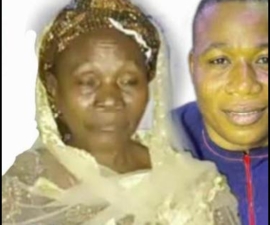 Community
Yoruba Nation agitator, Sunday Igboho loses mum
By Bose Adelaja
CITIZENS COMPASS – THE Yoruba Nation agitator, Sunday Adeyemo popularly known as Sunday Igboho has lost his mother to the cold hands of death.
She died on Saturday July 22, 2023 at about 2.30p.m.
She was aged 95.
The deceased, Madam Sikirat Abeke Adeyemo was said to have died at a hospital in Ogbomoso, Osun State after a brief illness.
It was learnt that she was rushed to the hospital from Igboho area of Osun State.
Igboho's uncle and the Chief Imam of Yoruba Land, Sheikh AbdulRaheem Aduanigba confirmed the death to Citizens Compass on Saturday.
As at press time, the remains of Madam Abeke was been conveyed back to Igboho town in Osun State but the team conveying her was said to have a stop over in Saki to continue the journey on Sunday.