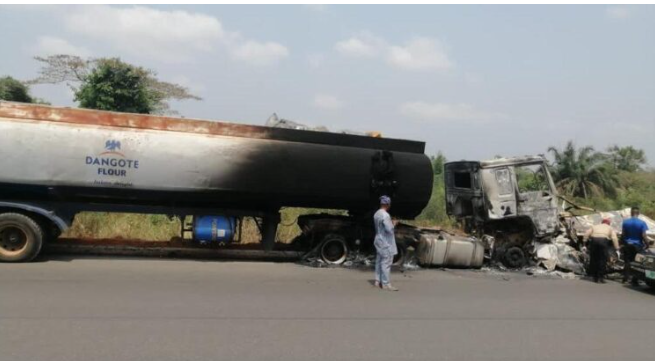 Community
18 burnt to death as petrol tanker explodes in Lagos-Ibadan expressway
NO FEWER than 18 persons were burnt to death on Friday in an accident involving a Mazda bus and a tanker at Ishara Bridge on the Lagos-Ibadan expressway.
Spokesperson, Ogun State Traffic Compliance and Enforcement Corps (TRACE,), Babatunde Akinbiyi confirmed the incident to Vanguard. 
He explained that the accident occurred around 4am, saying 18 people were involved in the accident out of which were two teenagers and 16 others.
He added that the accident was caused by route violation and dangerous driving, which resulted in a head-on collision and, thereafter, a fire outbreak followed.
He said a Mazda bus marked ZT 28 KLD and a Howo truck belonging to Dangote Group of Companies and two other vehicles were involved in the accident.
According to eyewitnesses'  account, the Dangote Howo tanker, whose content cannot be ascertained, drove in a direction prohibited by law, route violation, and in the process had a head-on collision with a commercial bus, which was driving on its rightful lane.
How fire engulfed the whole scene cannot be ascertained, because it could not be confirmed if the tanker was laden with fuel,  though the impact of the collision could have resulted into the inferno, more so with the likelihood of either of the vehicles having petrol in kegs.
The Spokesperson said, "No doubt it is a catastrophic and heart wrenching incidence which calls to question our attitude/disposition as road users towards safety.
"While TRACE Corps commiserate with the family of the deceased families, articulated vehicle drivers are again warned against route violation In view of its attendant consequences."