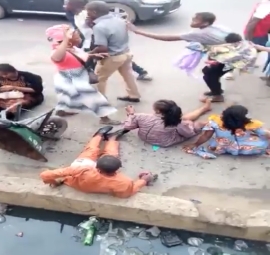 Articles
Bus crashes into BRT lane, many injured
CITIZENS COMPASS – MANY passengers of a commercial bus were feared injured on Monday, April 3, 2023, after it crashed into into Bus Rapid Transust (BRT) corridor in .
in Abule – Egba area of Lagos State.
The bus driver was said to be dodging oncoming vehicles when heallevdxkg lost control.
The accident occurred in the afternoon..
An eye witness, Mr. Abdulrasheed Tunde, who blamed the accident on mechanical failure, added that the vehicle somersaulted before crashing into the BRT fence.
A video of the scene made available to our Correspondent captured the BRT vereed off its corridor while the wreckage of the bus laid on the road with some passengers lying on the road crying for help.
Sympathisers were captured rallying round the victims as their personal effects were scattered about.
The incident was confirmed by the spokesperson, Lagos State Traffic Management Authority (LASTMA) , Adebayo Taofiq, who said the crash occurred at Super, inward Ile-Epo, in the Abule Egba area of  Lagos State.
He said seven people were injured.
" "It involved a blue Mazda Bus with registration number AGF 991 YC.
The driver was over-speeding and in an attempt to dodge the Lagos Bus Rapid Transit that was coming, the bus hit the wall on the BRT lane, and the vehicle somersaulted.
" We have seven passengers in the bus, all of them were seriously injured, LASTMA officers rescued them and took them to Ile-epo General Hospital," he said
He said officers of the agency were on ground and ensured that all the passengers inside the bus were immediately rescued.
LASTMA warned commercial bus drivers to stop over-speeding and obey traffic rules and regulations.
" The General Manager, LASTMA, Mr Bolaji Oreagba, advised that decorum should be maintained by road users particularly commercial bus drivers. "They should stop plying BRT corridor," he said.
At press time, the wreckage of the vehicle has been towed off the scene.