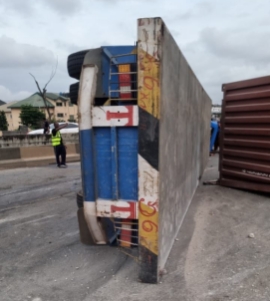 Community
Driver escapes as container falls on Otedola bridge 
CITIZENS COMPASS —THE driver of a containerised truck has escaped beingg trapped to death when the truck fell on Otedola bridge in Lagos State. 
The incident occurred on Sunday evening although details could not be ascertained. 
A picture obtained by Citizens Compass revealed the bed of the unlatched truck falling by its side while the container also fell apart blocking the bridge from being accessed by other road users. 
The Permanent Secretary, Lagos State Emergency Management Agency (LASEMA), Oluwafemi Oke-Osanyintolu confirmed the accident. 
While alerting members of the public about the accident, he said, "A container laden trailer has fallen on Otedola bridge and the agency has activated its response plan." 
He saud there was no loss of life, " No loss of life or casualties reported."
At press time, he said, "We are working hard to remove the obstructions notwithstanding."