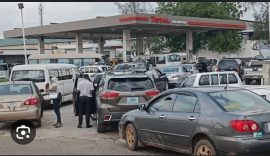 CITIZENS COMPASS — THERE is likelihood of fuel scarcity in Lagos and ita environs as marketers continue to shut filling stations against consumers of the product.
Checks by Vanguard, yesterday indicated that the closure of stations started gradually after the NNPC Limited cut the volume of its imports to enable major and independent marketers participate in importation, following the deregulation of the market.
It showed that the situation became widespread because of the inability of the marketers to import, mainly due to difficulties associated with sourcing foreign exchange and instability in the domestic market.
A marketer, who pleaded anonymity, said: "The reduction in NNPC Limited 's import, aimed at enabling the marketers to embark on importation and the inability of the marketers to import have created a vacuum that needs to be addressed.
"The situation could have been very serious if many people are still buying the product. But the shortage is currently mild because many automobile owners are not driving frequently or have completely abandoned driving because of the high cost of petrol currently going for between N568 per litre and N590."
However, a visit to Ijegun and Satellite depots indicated that fuel lifting was ongoing, though an operator confirmed that stocks had reduced.
The National President, Independent Petroleum Marketers Association of Nigeria, IPMAN, Chinedu Okoronkwo, simply said  "we are still loading."
But it was doubtful if all the products lifted at the depots were delivered to the filling stations, as officials of the Nigerian Midstream and Downstream Petroleum Regulatory Authority, NMDPRA, were not visible to enforce compliance.
Despite the challenges, the Chief Executive Officer, Petrocam Trading Nigeria Limited, Patrick Ilo, said deregulation remained a good policy targeted at growing the downstream sector.
He said:  "President Bola Tinubu was conscious about deregulation. There are problems but problems are meant to be solved; we will surmount the problems and over time, they will be over. I can guarantee that there will be no fuel scarcity in Nigeria, with deregulation."
Similarly, the founder of Petrocam Group, Shiraz Gany, said: "Deregulation has been good for the country because, at least, there are no inefficiencies.
"You can pay for premium motor spirit, PMS, at market price. Government can now spend money on critical infrastructure to make the country more efficient for Nigerians."
–Vanguard