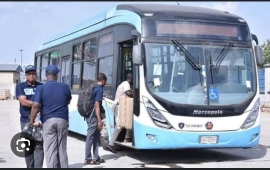 CITIZENS COMPASS —Lagos State Governor, Babajide Sanwo-Olu, on Monday, November 6, 2023, slashed state-regulated bus and rail transport fares by 25%.
The new rate is effective from Tuesday, November 7, 2023. 
The Lagos State Metropolitan Area Transport Authority (LAMATA) disclosed this in a statement on its X page formerly known as Twitter.
The statement titled, 'Lagos approves 25% fare rebate for regulated bus and rail transport', was signed by the LAMATA Head of Corporate Communication, Kolawole Ojelabi.
It reads, "Responding to calls for the reinstatement of the 50% rebate on fare for regulated bus and rail transport, Governor Babajide Sanwo-Olu has directed the implementation of 25 per cent discount beginning Tuesday, 7th November 2023.
Governor Sanwo-Olu had on 2nd August 2023 announced a 50% discount in fare on regulated transport bus and rail transport which ended on Sunday.
"Following appeals to the Governor, he has extended the passenger fare reduction by 25% across the regulated bus and rail transport services until another review is announced.
Within the three months period of the rebate, the pump price of diesel jumped from N867 in August to N1,300 in November 2023 representing about 50 per cent jump."
It will be recalled that the Governor, announced 50 per cent reduction in fares to cushion the effects of fuel subsidy removal on Lagosians. 
This was to be on for six months according to the Governor. With this, routes that were charging N600 were reduced to N350 while routes that were charging N400 slashed the fares to N250. 
During the 50 per cent reduction, Ikorodu to Oshodi that used to change N400 was reduced to N250, Ikorodu to CMS was reduced to N350 ftom N600, Ikorodu to Fadeyi was slashed to N250 instead of N400, Ikorodu to Yaba was slashed to N350. 
Abule-Egba to Oshodi was slashed to N300 from N450. 
However, before the expiration of six months, LAMATA announced a removal of the 50 per cent and an addition of N100 which has received backlashes from Lagosians. 
On Monday, November 6, 2023, checks by Citizens Compass revealed low patronage for the buses as Lagosians were embittered about the 50 per cent removal.