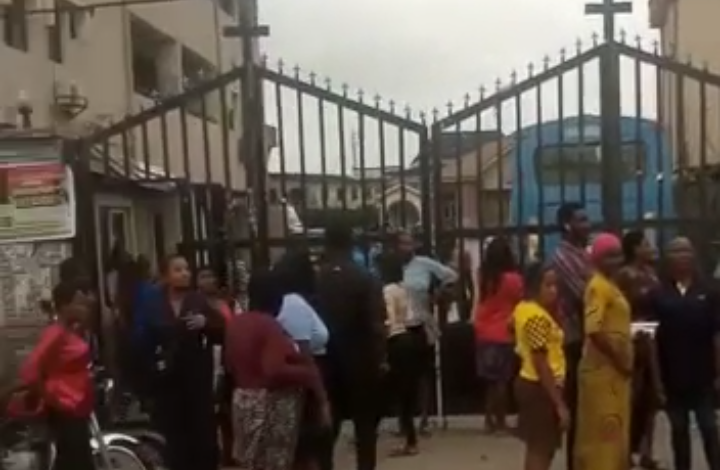 CITIZENS COMPASS– THERE were mixed feelings in Ijeshatedo, Lagos, yesterday,  as the Nigeria Police arrested three INEC staff for allegedly conspiring with St Bridget Catholic Church, Ijeshatedo to create an illegal Permanent Voter's Card registration unit for members and the inhabitants predominantly dominated by the Igbo extradition.
The INEC staff, Mrs Rita, Mr Ikechukwu Izuchukwu and Miss Agbokhna Ebigun, were sad to be arrested following a complaint by the Chairman, Residents Association, Raji Azeem, to the police about ploys by the church to disenfranchise some members of the public.
According to Azeem, residents have waited to no avail at the INEC recognised registration centre only to discover that electoral officers have been camped at Catholic Church hall attending to members of the church.
A resident, Mr Sonola Akinnubi said the arrest has sparked mixed feelings in Ijeshatedo area as the resident chairman is believed to be a card carrying member of the ruling party.
"The resident chairman is only trying to protect the party.
"I am sure he would not have raised any alarm assuming the church members were from his political party."
Meanwhile, SP Benjamin Hundeyin, Spokesperson, Lagos State Police Command in his tweets said the INEC officials were meant to carry out the exercise at a particular street but were misled into the church premises.
"The INEC officials were assigned to Imam Thani Street by House No 9A for today's exercise. They were, however, found within the church premises.
"Preliminary findings show that a resident of the area who volunteered to transport the officials from their office to the center was responsible for the mixup, deliberate or not, further investigation will reveal.
"Meanwhile, the officials were immediately released to proceed to the correct center to continue their assignment. "