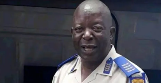 Articles
Policeman shot dead during sex in bush
...side chic escapes unhurt
CITIZENS COMPASS– A South Africa police officer based in Mpumalanga, was shot dead while reportedly engaged in a sex act with a lady said to have been a side chic in the bushes.
According to TimesLive, the 60-year-old Judas Chiloane, who was the traffic chief in Bushbuckridge was reportedly shot twice in the back seat of his Ford Ranger bakkie while his sweetheart escaped unscathed.
Two suspects Charles Mbungeni Mabuza and Howard Mashego were detained following the incident March 13 in connection with the murder ad were arraigned in court on March 15.
spokesman for the police department, Captain Dineo Sekgotodi, commenting on the development said:
"The two men told us that they would normally go to the spot near Graskop Road [where Chiloane was shot dead] to rob couples who use the area to engage in jola-joling (sex) in their cars."
"They apparently grabbed his gun before shooting at his upper body and thigh. When the woman called for assistance, the cops arrived and pronounced their coworker deceased there and then."
Chiloane was discovered naked and with his uniform on the ground, a source told TimesLIVE.
Richard Chiloane, Judas Chiloane's brother, informed reporters that they didn't know the side girl he was with when he was killed. He also acknowledged that he might have had extramarital affairs, but his family only knew about his live-in partner.