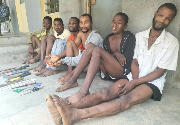 Security
So-Safe Corps apprehends six suspected cultists
CITIZENS COMPASS– THE Ogun State owned security outfit known as Ogun State Community, Social Orientation and Safety Corps – So-Safe Corps has arrested six suspected cultists terrorising Rounder axis of Abeokuta and its environs in the state.
This was disclosed in a press release issued from the Office of the State Commander of the Corps, Soji Ganzallo through the Office of the Director of Information and Public Relations of the Corps, Moruf Yusuf.
According to him, the officers of the Corps attached to Obasanjo Hilltop, Oke Mosan, Abeokuta had arrested a suspected cultist, Mr Emmanuel Victor, aged 32, a resident of Feyintolorun Community, Rounder, Abeokuta North Local Government Area during a stop-and-search technique at the access gate and four live ammunition were found on him.
Ganzallo said during preliminary investigation, the suspect confessed that the ammunition were found on him on his way from work.
He further said that the suspect works as a gardener at Crescent University, Abeokuta and mentioned five other accomplices who have been terrorizing Rounder axis.
He said some of the names mentioned were arrested.
Ganzallo further said that the suspect disclosed that he belongs to Aiye confraternity cult group and one of his superiors, Mr Olumide Abdullah, nicknamed 'Maintain',a resident of 5, Adehun, Iyana Cele, Rounder, who had been arrested too, asked him to get the ammunition while he said his group, which could have secured a rifle
if not for the cashless policy which resulted in spending the N20,000 generated has its base at Adogbon Shop, Rounder in Abeokuta.
Ganzallo also noted that the Corps had put in effort to arrest few members of the deadly cult group while others are at large.
Those arrested are Mr Isiaka Jimoh, 33, a resident of Feyintolorun Community, Rounder; Oluwaseun Gabriel, 20, nicknamed Atunbi, a resident of 22, Opara 1,Iyana Cele, Rounder; Ojeka Samuel, 19, and Adisa Rasheed, 19, who both reside at Opara 1, Iyana Cele, Rounder in Abeokuta.
The Commander noted that the suspects and exhibit recovered including axes, cutlasses, scissors, knife, Islamic Rosary and spinner-had been handed over to the Nigeria Police Anti-Cultism Unit, Oke-Ijemo, Abeokuta for onward transfer to the State Headquarters for further investigation and likely prosecution.