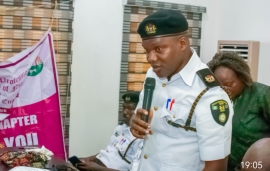 General News
Stakeholders urge practitioner to embrace codes, standard in automotive practice 
By Abimbola Joseph
CITIZENS COMPASS – STAKEHOLDERS in the automotive industry on Thursday, urged practitioners to embrace codes and standard for safety of the industry in Nigeria.
They gave the advice at a three-day workshop organised by Royal Academy of Engineers, at  Lagos University of Science and Technology(LASUSCH) in Ikorodu, Lagos.
Citizens Compass reports that the theme of the event was : " Codes and Standard development on safe Automotive practice in Nigeria.
The stakeholders include Standard Organisation of Nigeria(SON), Vehicle Inspection Service (VIS), Safety professionals in Health, Electrical and Mechanical Engineering among others.
Speaking, Prof. Robinson Elijah, Chairman, Royal Academy of Engineering and Safe Automotive Works(RAEng-SAW) Project implementatiin committee, said the essence of the workshop is to  focus on the importance of codes and standards for safe automotive practice.
He said they would also lay emphases on occupational health and safety, risk identification, mitigation strategies, compliance, and continuous improvement.
The chairman urged participants to embrace the values of collaboration, respect, and open-mindedness throughout this workshop adding that value and diverse perspectives brought forth by each participant would be appreciated.
"I am sincerely appreciative of your dedication and commitment to advancing safety, health, and sustainability in the automotive industry.
"we are embarking on a collective endeavour that holds immense potential to reshape the way we approach automotive practices and set higher standards for the betterment of our industry, " he said.
Earlier, Engr. Mrs Osasoduwa Agboneni, said the workshop is an opportunity  to come together as industry professionals, regulatory bodies, academic institutions, and experts to address the crucial aspects of safety, health, and sustainability in the automotive sector.
Agboneni said the workshop was also a platform to share knowledge, exchange ideas, gain insights from each other's experiences to lay foundation for a robust framework that would ensures the well-being of workforce.
She highlighted some of the remarkable progress made by the committee since implementated last year which include: capacity building and training on project management understanding timelines.
Others include: Baseline survey and focus group discussion (FGD), Advocacy visits, training workshop for stakeholders in the automotive health and safety domain and awareness campaign on Reduce, Reuse, Repair, Recycle, and Upcycle among other achievements.
She appreciated the the management of LASUSTECH, Engineering X which was founded by RAE and Lloyd's Register Foundation for their support 
"I would like to acknowledge and express our sincere appreciation and their generous support has been instrumental in making this event possible. 
"Their commitment to advancing safe practices in the automotive industry is commendable, and we are truly grateful for their partnership," she said
Also, Prof. Olumuyiwa Odusanya,  the Vice-Chancellor LASUSTECH,  in his goodwill message said the convergence of experts and professionals from diverse background is a testament to the collective vision of creating a safer environment for automotive workers in the country.
Prof. Odusanya, represented by Dean, College of Engineering, Dr. Yakub Olawale, said the workshop would foster insightful discussion, facilitate knowledge sharing and cultivate collaborative effort towards developing a comprehensive code of practice.
"At this event we can together establish guideline that will ensure higher standards of safety, health sustainability within Nigeria automotive industry by combining expertise perspectives of various stakeholders,"he said.
Mr Tokunboh Smith, a participant urged stakeholder in the industry to collaborate and develop an international best practice for safety of workers adding that codes and standard is a key to National development. 
During the programme Engr Mrs  Osasoduwa Agboneni was inducted as a fellow of the Nigeria Society of Engineering Technician.