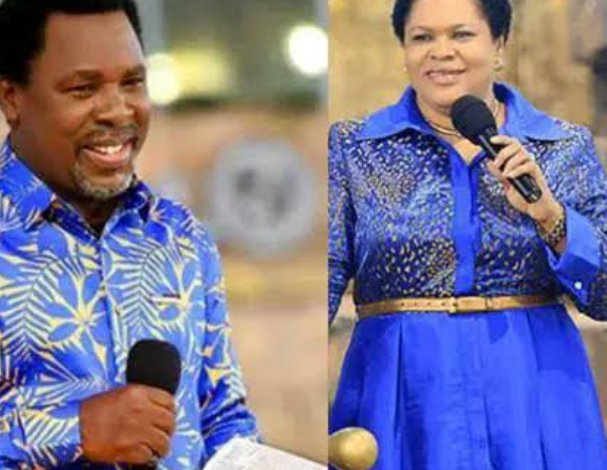 Religion
T.B Joshua didn't show signs of illness – Wife
...as Nigerians pay tributes
Evelyn Joshua, the wife of the founder of the Synagogue church of all nations (SCOAN), Temitope Balogun Joshua, popularly known as T.B. joshua, says the late cleric did not show any sign of illness before he died.
She said her husband "ended his race prayerfully" and spent about three hours in prayers before the last service on the mountain and was looking very healthy.
Speaking with journalists in Lagos, she said the main concern of T.B. Joshua was about the prayer line they offered to Indians against the COVID-19 Pandemic.
She said, "Afterward, he came up to shower and I left him to have some time to prepare for service as worship had started.
"Few minutes after, he stepped out for ministration. While ministering, he spoke about a time to come and time to leave. His statements were spiritual and suddenly, he left the stage and went to his inner chambers.
"I waited a few minutes and thereafter decided to check on him. I met him sitting on the chair like someone reflecting but unconscious. I quickly beckoned on his disciples who came and tried to revive him to no avail.
"Of a truth, he went home to be with the Lord and left us with a message, watch and pray," she submitted.
Evelyn also took to social media to express ocean-deep emotions over the loss of her husband.
Amid the ban by the Federal Government on the usage of popular microblogging platform, Twitter, in Nigeria, Evelyn took to her official Twitter handle, @Mama_Evelyn, and wrote a short message.
She said, "Losing a loved one is never easy; whether sudden or foreseen. It is always heart-breaking. Grief can wreak havoc on our overall well-being. That's why it's important to stay rooted to the Almighty. Only He can lessen our heartache and comfort us in these times. Seek refuge in him."
Followers and lovers of the late preacher flooded her comment section to sympathise with her.
About a week ago, Evelyn had taken to her Twitter page to write, "Faith is trusting and believing that the Almighty has your back no matter what you're going through. Even when you can't comprehend what's going on, you trust Him. You know He will get you out of unfavourable situations. Best motto to live by; do your best, leave the rest to Him!"
Many have described Evelyn as "the pillar" of the late preacher's life and ministry and said it would be a serious hit on the family.
Joshua, who is survived by children and a widow, hailed from Arigidi Akoko, in Ondo State.
His death has been attracting tributes from well meaning Nigerians.
In his tributes titled, "The goodman T.B Joshua", the. Executive Director, Centre for Citizens with Disabilities, David Anyaele  said,
"It was at the pick of the campaign for the passage of the Lagos State Special Peoples Law that I had an encounter with the man, Prophet TB Joshua.
Leading the advocacy, lobbying, and public sensitization, it was as if the campaign will not succeed. I called for interfaith prayer session for divine intervention for the passage of the disability bill.
At the review meeting for the event at the then CDHR office in Ikeja, the planning team observed that invitations have been sent to different "big men of God" in Lagos, but no confirmation of participation, less than 70 hours before the event. One of my comrades recommended that we invite Prophet TB Joshua.
I was like, who will send the invite to him since none of the planning team members is a member of his Ministry. After a long debate, it was agreed that an invitation should be sent to him. I signed his letter of invitation.
Less than 48 hours to the event, at the planning meeting, it was observed that the courier service provider did not deliver the mail. I was totally disappointed. However, since the dispatch has been paid, no need to return the mail.
The mail was sent to his office less than 36 hours to the event. Guess what? My colleague gave me the phone the next day, less than 24 hours to the event that someone from Emmanuel Television wants to talk to me. The Oyibo woman informed me that she was directed by Prophet TB Joshua to confirm the program.
It was a big surprise to me that TB Joshua received the invitation, immediately directed his aid to confirm the event. The program of the event was shared with the representative, few minutes later she confirmed that they would be at the event live. Interestingly, apart from my Church Pastor and one Islamic cleric, other men of God invited for the event did not reply our letter of invitation.
While waiting for the event to start, I received another call informing me that the Man of God regrets his inability to join us, but a powerful representative would be there to represent him along with Emmanuel TV crew.
The interfaith prayer session for the passage of Lagos State Special Peoples Bill went well. It was presided by my Pastor Gbenga Benjamin Adeoye . TB Joshua representative was there, along with the TV crew. The Islamic cleric also led Islamic prayer at the prayer session. Two days after the program, Bishop Mike Okonkwo sent his representative to my office with a letter apologizing for his absence at the event.
God answered our prayers. It didn't take long, Mr. Babatunde Fashola then Governor of Lagos State signed the Lagos State Special Peoples Bill into law. I sent a copy of the law to Prophet TB Joshua. We spoke on phone as he requested me to meet with him, which I couldn't make, due to other exigences.
Prophet TB Joshua was one of the few GOs of Churches in Nigeria that does not discriminate nor stigmatize against citizens with disabilities. He supported Nigerians with disabilities in no small measure. Be it on his birthday or Christmas, he made sure that PWDs received food and other items. He sponsored many Nigerians with disabilities abroad for international sport competitions.
To wake up this morning to hear the news that the man, TB Joshua is no more is shocking to me, and many who had benefited from his Ministry. It is my prayer that God will console his family and loved ones.
God knows the best.
Please accept my condolences." he said.
In his tributes,  a journalist with Guardian, Temitope Olaiya (Templer) said, "In the end, whether good or bad, we would only be remembered by what we have done.
Adieu to one of the most misunderstood human I have come across.
Right from the days of my childhood as a primary school pupil in the early 90s, waving at you while you drive past Ajisegiri Street, Agodo in your blue Santana car.
How I watched as convoy of buses transport pilgrims and worshippers with their bottles and jerrycans of brownish water into the swamp that you recreated to a 'Garden of Eden' of sorts, attracting foreigners from across the world in their hundreds weekly to Ikotun and Agodo. Even the unfortunate incident of 2014 building collapse ruffled you but didn't deter you from forging on.
To how you against the odds granted me audience for my undergraduate project at the University of Ibadan on the NBC Ban and Authenticity of Miracles while you were immersed in the controversy with CAN, PFN, Pastor Chris Okotie, Pastor Chris Oyakhilome and others
How you were drawn to me since then cos we were namesakes and the 'queerness' of Templer but you would rather call me Temitope Temple, which later inspired my coinage of 'Just Templer at the Temple of Dreams' cos you will jocularly ask: 'Which Temple are you?'
And the many access you granted me despite being sometimes withdrawn not just for intermittent interviews but to strike the conversation about 'What do people say I am' leading to a project you had agreed to with Emmanuel TV, an autobiography to mark your 60th.
All that has gone with the wind by your passage. Leaving behind a legacy no one else can manage because YOU alone was the attraction to The Synagogue.