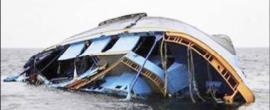 Community
Traders drown as boat capsizes in Ondo 
CITIZENS COMPASS – A boat mishap which occurred at Ugbonla, Ilaje Local Government Area of Ondo State have claimed the lives of five traders.
The incident was said to have occurred last Thursday while the victims, who were seafood traders were traveling from a market in Ugbonla.
President, Ondo State Fishermen Association of Nigeria, Ambassador Orioye Gbayisemore, disclosed this on Sunday, June 11, 2023. 
He said the boat capsized due to failure of the victims to wear life jackets while sailing on the sea. 
Gbayisemore said only one person who survived the accident was lucky because he wore a life jacket.
Towards this end, the president urged the state government to enforce the use of life jackets for all sea travellers, adding that there was a need for stringent measures to ensure compliance.
He said, "The presence of a life jacket saved the life of the sole survivor in this tragic incident, it is important in ensuring the safety of individuals, engaging in maritime activities.
"The lone survivor in the Ugbo Nla boat mishap had the foresight to wear a life jacket, before setting out on the ill-fated trip. The life jacket was vital to his survival, keeping him buoyant until rescue arrived.
This serves as a stark reminder of the urgent need to enforce the use of life jackets for all individuals commuting on water."
Gbayisemore also urged the state government to prioritise dredging and clearing of waterways, to facilitate safe and unobstructed movement for passengers.
"It is crucial to recognise that well-maintained waterways enhance ease of transportation and significantly reduce the risk of accidents, ensuring the safety and wellbeing of those who rely on water transportation.
"Additionally, the government needs to recognise the significance of investing in water transportation. This mode of transportation can contribute to economic growth in the region. 
The government can promote safe and efficient travel for its citizens by encouraging and supporting investment in water transportation infrastructure."