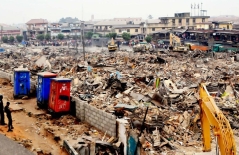 Community
Lagos demolishes building under powerline
… says disaster waiting to happen
CITIZENS COMPASS – Lagos State Government on Thursday, April 6, 2023, prevented a disaster waiting to happen in Surulere area of the state as it has demolished a building under a powerline in the area. 
The demolition exercise was carried out by Lagos State Building Control Agency (LASBCA) at day time.
The building is located around Hamed Adebowale Street, Aguda, Surulere Local Government Area of the state.
The agency disclosed this in a statement, on Thursday, April 6, 2023.
According to the statement signed by LASBCA General Manager, Gbolahan Oki, the agency allayed fears about the building saying, "It is a disaster waiting to happen because of the electromagnetic waves from the powerline, which may cause a fire outbreak."
Oki said the Urban and Regional Planning and Development Law does not permit owners or developers to build under high-power electricity cables, and it specifies the distance that should be between a property and a public utility such as electricity power lines.
The General Manager said that the state government is commitment to safeguarding the lives and property of Lagosians through the identification of illegal and non-conforming structures in the state, especially those built under high-tension wires.
" The safety and protection of lives and property of the citizenry are paramount to the government," he said.
"Owners/developers must ensure their buildings are not erected under power lines or high tension wires, as such illegality will not be condoned by the government.
LASBCA will intensify its effort to rid the state of illegality in the built environment by ensuring the state building codes are complied with," the statement added.
Recall that about five months ago, the state government through LASBCA, pulled down an illegal construction under a powerline along Church Street, off AIT Road, Alsgbado area of the state. 
Oki disclosed this during the agency's routine monitoring and enforcement exercise carried out at Alimosho Local Government Area of Lagos State.