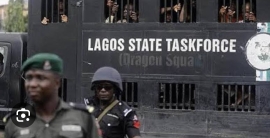 Community
Suspected land grabber stripe residents naked 
… Lagos Taskforce nab suspect
CITIZENS COMPASS —A suspected land grabber, Saheed Abdulahi popularly known as 'Ibile' has bitten more than he can chew by striping naked and dehumanising some residents and construction workers in Ibeju-Lekki and Epe axis of Lagos State. 
Nemesis caught up with him on weekend, aa he had been apprehended by operatives of Lagos State Environmental and Special Offenses Unit (Taskforce). 
He was apprehended after residents, communities and landowners wrote a series of complaints and petitions to police authorities. 
The arrest which was made in the early hours, was coordinated by the Chairman of the Agency, CSP Shola Jejeloye after he had received the complaints and petitions about the high degree of beastiality and crude manner of operation while trying to dislodge legal occupants from their legitimate property. 
Speaking at the Headquarters of the Agency, Jejeloye described the suspect as a repugnant entity not worthy of being in real estate business or evicting property owners unlawfully from their hard earned landed property.
"He is well known for this type of criminal activity and he has been doing it for quite a while but luck ran out on him on the 8th of July 2023 when he swooped on a certain portion of land at Oke-Ogun area of Epe with some armed thugs in order to dislodge workers who were carrying out construction works on the land. 
He rounded up everyone present and dehumanized them by blindfolding them and stripping them naked just to cow them into fear and submission."
Jejeloye further disclosed that after stripping the workers naked, Ibile loaded them in a bus and drove them down to an undisclosed location where he further subjected them to more barbaric treatment.
"It is quite appaling that with the level of development and enlightenment in a Metropolis like this, we still have people like Ibile who feel they can take laws into their hands by unlawfully arresting people, torture them and then take over their land. It is preposterous and unbelievable. 
"We took it upon ourselves to get to the root of this matter and have arrested the main culprit who orchestrated the whole excercise. Going by his utterances, he believes he can bribe his way out of every situation but this time around, he will be prosecuted and made to answer for his crimes."
Jejeloye assured the good people of Lagos and workers who were made to go through such cruel experience that the Agency would leave no stone unturned till all other culprits who were involved in the activity of the 8th July are rounded up and made to answer for their heinous crimes. 
He sounded a note of warning to all grabbers or intending Land grabbers in the State to either relocate from the metropolis or turn over a new leaf. Defying such warnings means he risks being prosecuted. "The days of every land grabber are numbered and I appeal to all Lagosians experiencing any activity that has the semblance of land grabbing in their vicinity to report such to the Agency. Together we will stamp out this menace of Land grabbing in Lagos." He concluded.
Meanwhile, the suspect has been charged to court and the Court has ruled that he be remanded at Badagry Correctional Centre until he meets his bail conditions.
Consequently, the Chairman reiterated that the Agency will continually key into the THEMES PLUS agenda of the State Government on the Lagos State Property Protection Law of 2016 in order to discourage any land grabbing occurrence in the State.